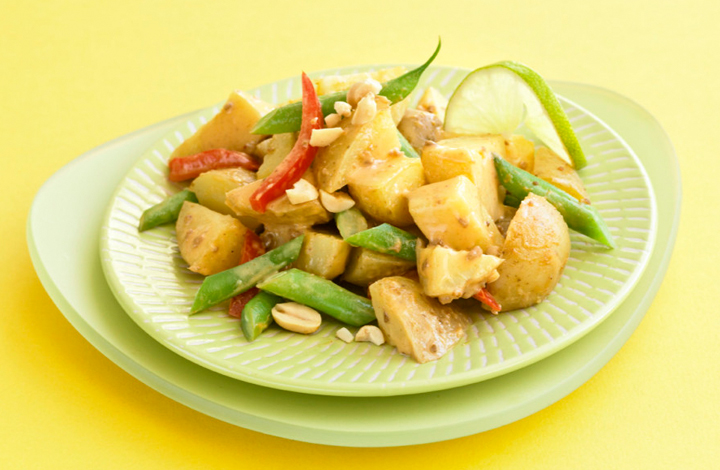 Yield: 8
Prep Time: 10 Minutes
Ready Time: 30 Minutes
Cook Time: 20 Minutes
Ingredients
2 pounds small yellow potatoes, scrubbed
3/4 cup peanut satay sauce
1/2 cups low-fat mayonnaise
1 cup green beans, cut into 1-inch pieces and blanched
1 cup red bell peppers, cut into 1 x 1/4 inch strips
1 cup roasted, salted peanuts
Preparation
Place potatoes in large saucepan; cover with water. Bring to boil over high heat; reduce to a simmer and cook until just fork tender. Drain and cool; cut into quarters. Set aside.
Wisk together satay sauce and mayonnaise in a large bowl. Add reserved potatoes, green beans, peppers and peanuts; stir to mix. Serve immediately or chilled.
Consider serving with: grilled shrimp, broiled fish or chicken stir-fry.
Calories: 298 Fat: 14g Sodium: 221mg Carbohydrates: 36g Fiber: 4g Protein: 14g Potassium: 682mg
Recipe courtesy of the US Potato Board
Imprimer la recette