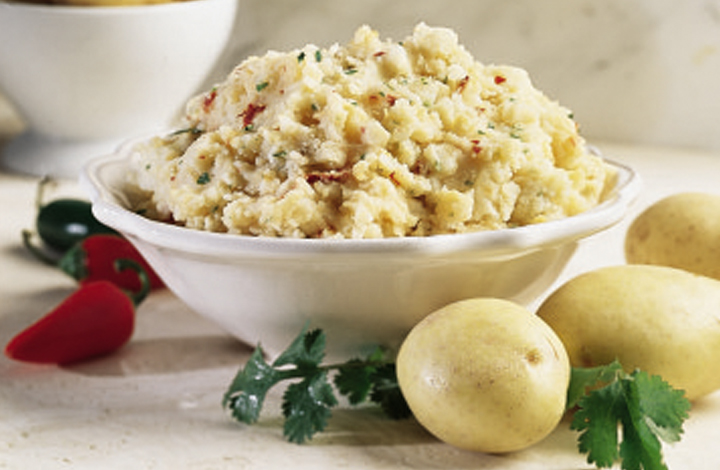 Yield: 4
Prep Time: 5 Minutes
Ready Time: 15 Minutes
Cook Time: 10 Minutes
Re-introducing…your microwave! You will be amazed with the flavor of this American favorite, with or without the Southwest flavor. Or try roasted-style or Au Gratin potatoes, both ready in just over 10 minutes. Who knew potatoes could be so convenient? If requiring a gluten-free recipe, check the label of the indicated (*) recipe ingredients to ensure they are gluten-free.
Ingredients
1 1/2 pounds small white potatoes
One 4 1/2-ounce can diced mild green chiles (8 tablespoons)
1/2 cup fat-free sour cream*
1/3 cup low-fat pepper jack cheese*
1 teaspoon ground cumin
1 cup fresh tomato, diced
Preparation
Place potatoes in an 8-inch square microwave-safe baking dish. Cover with a lid or plastic wrap. (If covering the dish with plastic wrap, poke a small hole in the plastic.)
Microwave on HIGH for 8 minutes or until the potatoes are tender when pierced with a fork.
Use oven mitts or pot holders to remove the dish from the microwave; pour the potatoes into a large bowl.
Add the chiles, sour cream, cheese, cumin, and salt. Mash with a potato masher or an electric mixer at medium speed until fairly creamy. Stir in the tomato.
Calories: 243 Fat: 2g Cholesterol: 9mg Sodium: 285mg Vitamin C: 53% Fiber: 3g Protein: 10g Potassium: 916mg
Recipe courtesy of the US Potato Board
Imprimer la recette